Isogrip® accessories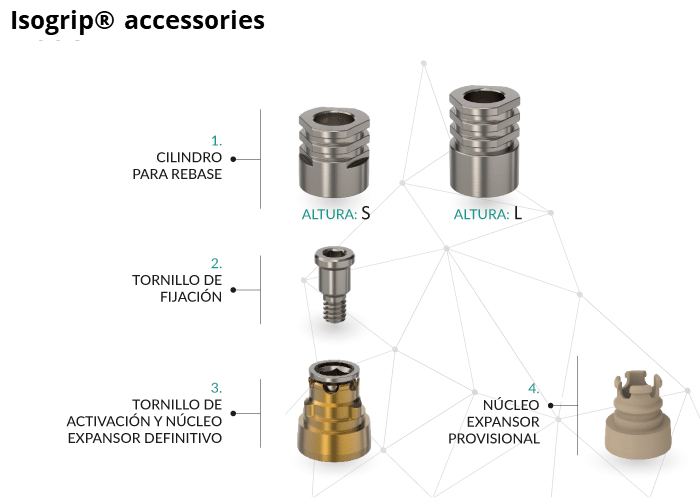 ISOGRIP® ACCESSORIES

MATERIAL
IsoGrip® Accessories are made of Titanium Grade 5 with a mirror micro-polished finish to prevent bacterial plaque adhesion, and PEEK for biomedical use.

USE AND COMPOSITION
Thanks to the Isogrip® System, we can perform immediate loading with any type of implant on Multi-Unit® abutments, reducing the time it takes to obtain a screwed denture on implants.
It consists of four elements:
Outer Cylinder
- Titanium piece that attaches the IsoGrip® System to the overdenture, exerting a slight pressure until a "Click" is felt.
- Available in two heights (S and L).
- The Perforation Guides are inserted into its inner part to allow the Cutting Bur to be introduced, creating channels for an exact position of the Fixation Screw (2).
- Tools used are not included.

Fixation Screw
- Piece that is responsible for fixing the IsoGrip® System to the Multi-Unit® abutment, in an exact position thanks to the previously made perforation channels.
- It is screwed in using a hexagonal screwdriver 1.20 (Not included).

Activation Screw and Definitive Expander Core
- The Definitive Expander Core attaches to the Outer Cylinder (1) by means of an expansion of its upper area, exerted by the pressure of the Activation Screw, which also houses the seat of the Fixation Screw (2).
- It is activated by tightening it with the Activation Key (Not included).

Provisional Expander Core
- A geometrically analogous piece to the Definitive Core (3) made of PEEK and without the need for the Activation Screw. It is used to temporarily position the Outer Cylinder (1).
There are no products with the selected features.