Locator® Abutment Kit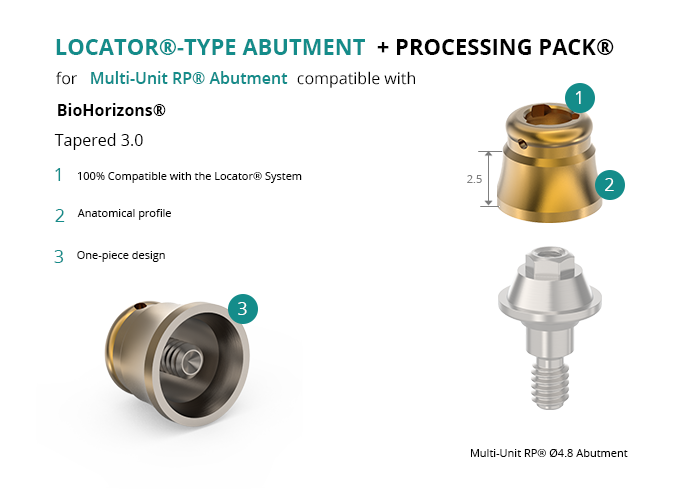 COMPATIBLE LOCATOR® ABUTMENT (KIT) FOR MULTI-UNIT® RP
MATERIAL
The Locator Abutment of Gt-Medical for Multi-Unit® RP is made of Titanium Grade 5 with a TIN finish to prevent bacterial plaque adhesion and ensure optimal sliding with the retention pack.
COMPOSITION
The kit is composed of the Locator Abutment, the Titanium Collar, and the Processing Pack, which contains:
Denture Cap Assembly.
Block-Out Spacer.
Retention males with 4 different hardnesses.
UNION AND GEOMETRY
The union between the Locator Abutment and the prosthetic structure is made through the retention males.
The connection surface of the Titanium Collar with the abutment has been rigorously designed with the original measures of Multi-Unit®.
The Titanium Collar has a height of 3.0 mm, and has a micro-polished surface finish that facilitates the peripheral growth of the gingival mucosa.
The retention surface is provided with a toric surface to ensure proper positioning of the processing pack and is 100% compatible with Locator®.
NOTE:
The insertion of the Locator Abutment is performed with the Core Tool, not included in the package.