Temporary Abutment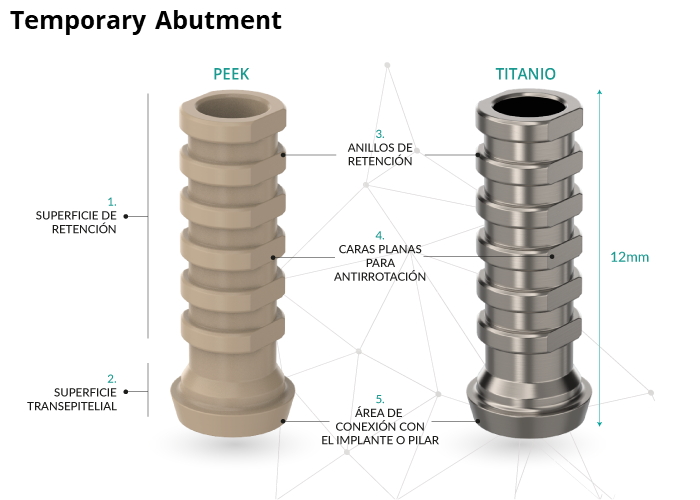 TEMPORARY ABUTMENT
MATERIAL
The Gt-Medical Temporary Abutment is made of Titanium Grade 5 with a micro-polished mirror finish to prevent bacterial adhesion.
It can also be found made of PEEK for biomedical use.
GEOMETRY
The connection surface of the Gt-Medical Temporary Abutment with the implant or abutment has been rigorously machined with the original measurements of the corresponding implant or abutment and offers a machining tolerance never exceeding +/- 0.01mm. They are available for both unitary (non-rotary) or multiple (rotary) jobs.

The trans-epithelial surface has a single height that varies depending on the model of the corresponding implant or abutment, and facilitates the circumferential growth of the gingival mucosa.
The maximum diameter of the Gt-Medical Temporary Abutment has a single measurement and varies depending on the implant or abutment on which it is placed.
The contact surface with the prosthesis has very pronounced retention rings, as well as two flat faces that ensure anti-rotation.
All Gt-Medical Temporary Abutments are provided with a screw housing for fixation with the implant.
NOTE:
The fixation screw is not included and must be chosen separately.