Co-Cr Base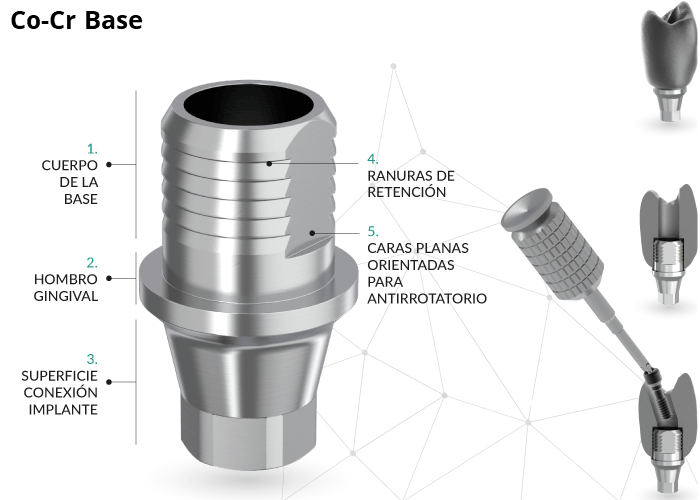 Co-Cr Base
MATERIAL
The machined base from Gt-Medical is made of Co-Cr with a mirror micro-polished finish to prevent the adhesion of bacterial plaque.
CONNECTION
The connection of the Co-Cr Base with the implant can be made using the corresponding Prime Series Screw for straight channels or using the Prime D inalock Screw for angled channels.
On the other hand, the connection of the machined base with the prosthetic structure is performed through cementation or welding.
GEOMETRY
The geometry of the Machined Co-Cr Base is divided into 4 parts:
Connection surface with the implant, rigorously designed with the original dimensions of the corresponding implant, offering a machining tolerance never greater than +/- 0.01mm.
Gingival shoulder, made at a height of about 1mm and a micro-polished surface finish to facilitate the peripheral growth of the gingival mucosa.
If the connection of the machined base with the prosthetic structure is performed by welding, the gingival shoulder provides a firm support to perform micro-welding points around the entire perimeter.
Body of the base, has a height of 3.6mm and is provided with retention grooves to facilitate cement adhesion.
It has two flat faces, to ensure the anti-rotation of the machined base within the prosthetic structure, oriented angularly with the implant connection and with the flat face of the scan body.
Screw seat, made with an angular tolerance of +/- 0.5 degrees preventing micro-movements that could cause possible screw loosening.
CAD-CAM
Using the Gt-Medical Prime Co-Cr Base implant library, you can design the prosthetic structure digitally, using either straight or angled screw channels.